Hopefully, we escape night time long tacking cells this week!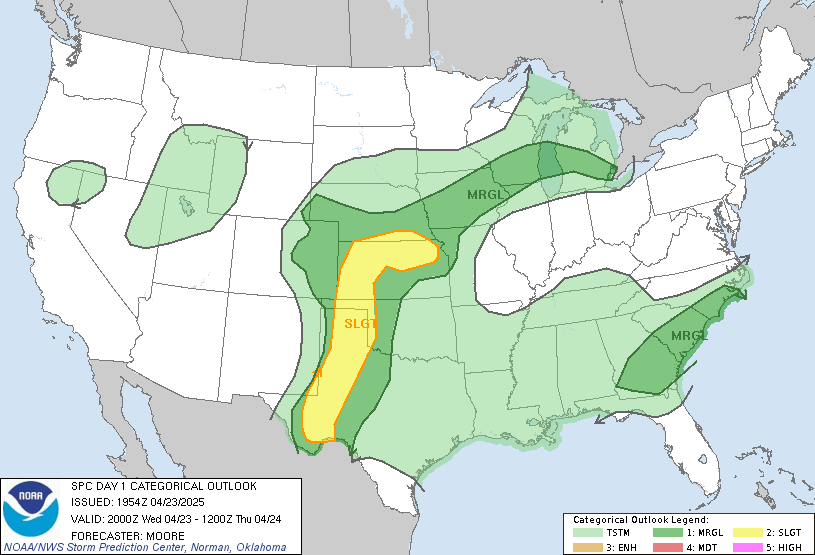 Day 1 Convective Outlook
NWS Storm Prediction Center Norman OK
0258 PM CDT Tue Mar 29 2022
Valid 292000Z - 301200Z
...THERE IS A SLIGHT RISK OF SEVERE THUNDERSTORMS FROM PARTS OF THE
LOWER MISSOURI VALLEY TO CENTRAL TEXAS...
...SUMMARY...
Severe thunderstorms are expected this evening and tonight from the
lower Missouri Valley region to central Texas. Damaging gusts,
severe hail, and a few tornadoes are all possible.
...20Z Update...
Convection should initiate across parts of south-central KS near the
triple point around 22-00Z. Increasing but still relatively modest
low-level moisture, steep mid-level lapse rates, and strong
deep-layer shear should support organized thunderstorms across this
region. Severe hail and damaging winds will be a threat with any
supercells that can develop and spread into eastern KS/western MO
and vicinity this evening. There will also be a window during the
mid to late evening for a few tornadoes as low-level shear increases
with a strengthening low-level jet, but before the boundary layer
stabilizes. Have expanded the 5% tornado area a little to account
for this potential. Also nudged severe probabilities westward
slightly in western OK to where recent high-resolution guidance
suggests storms may initiate along the dryline by 01-02Z.
Across northeast NE/northwest IA and vicinity, have compressed
severe hail probabilities to where destabilization appears most
likely to occur by later this evening. The northward extent of the
severe threat should quickly wane as convection moves northeastward
into a less unstable airmass.
Thunderstorms are still expected to develop mainly after 00Z this
evening across parts of west/central TX as the cap along the dryline
slowly erodes and large-scale ascent associated with an upper trough
overspreads this region.
Damaging winds should be the main threat as
convection quickly grows upscale, but some large hail may occur
within the first few hours of convective initiation given the
presence of steep mid-level lapse rates and strong effective bulk
shear.

..Gleason.. 03/29/2022